If I Could Tell You One Thing it Would be This...
Sep 01, 2023
Dear Leader,
I have a note on my phone called "If I could tell my Reader one thing… what would it be? It's where I'm keeping notes for my next book. It's a note that often sits untouched on my phone for months. But every so often I open it up and add to it a thought or quip I would tell the person reading my book. I opened that note again yesterday.
I have no idea when I will get that book written and published and, in your hands, dear leader. And I think there might be a few things that could encourage or motivate you to keep going when life gets hard.
If I could tell you one thing (or 10!) here it is:
What someone says about you or thinks about it, doesn't matter. Their opinion does not pay your bills.
If it's scary or exciting, you MUST do it. Life is too short to not be curious.
Read the books. Listen to podcasts. Watch the lectures. Learn. Learn. Learn. Life is better when you are not ignorant.
Your brain can lie to you. So can your heart. Do the hard work to identify your own negative self-talk and lies and labels. When you know what they are you can tell them to shut up when necessary.
The middle is freaking messy! Don't hold tightly to your methods. No holy cows. Give up whatever isn't working quickly.
Don't let emotions blind you from making the right choices.
Stupid decisions happen. Accept the consequences with humility. But never forget to pivot and keep moving forward. This is true in relationships and in business.
It's ok to fight for what you believe in. Saving the whales. Saving the trees. Saving the humans. If your soul cries for justice, you must answer it.
Grieve the things that die in your life. You never bury grief dead. You bury it alive. And you've seen enough scary zombie movies to know that can't be good.
Deal with your sh*t- especially the stuff that makes you play small and self- sabotage.
With Grace & Grit,
~Coach Raychel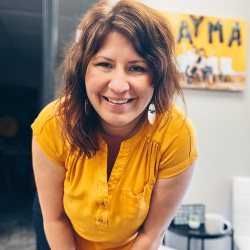 Raychel Perman is a well respected Certified Professional Life Coach and the Co-Founder of RAYMA Team™, an award winning Life and Leadership Coaching Company. She is an accomplished Motivational Speaker, Amazon best-selling Author, and the Co-Host of the Fearless Feminine Leadership Podcast. Her story of overcoming trauma and living with chronic illness motives and inspires everyone who hears it. Perman lives in North Dakota with her husband Josh, three children, and three fur babies.